These cutting boards have become very popular for kitchens that do not have the space for a built-in butcher block.  They are smaller in size and are customizable with various woods and engraving.  They are all made from edge grain strips of specific hardwood that makes the cutting surface durable and less susceptible to contamination.  All of them are finished with a food grade mineral oil.  I also use some outstanding non-skid supports on the bottom to ensure a solid surface that will resist sliding around when in use.  They are available in all shapes and sizes!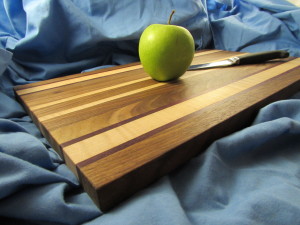 Edge grain Walnut accented with a strip of Maple.  Customized with the family's name on it.  Great idea for a wedding or housewarming gift.
This cutting board is slightly longer and mixes in edge grain walnut along with strips of maple and purple heart.