This was a project that was special from the beginning!  A woman whom I have the privilege of working with was expecting a child.  They were so excited to hear that it was going to be a girl!  In anticipation of the special delivery, she wanted a jewelry box made for the girl before she was even born.  The mom-to-be simply started with a picture on the internet.  We were able to sit down and discuss what she liked and what she specifically wanted.
Upon delivery of the final product, the mom-to-be started crying as soon as she opened the box!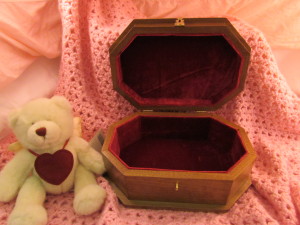 The box was lined with red velvet and assembled with brass hinges and a clasp.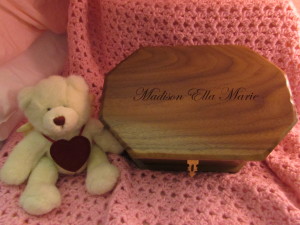 She wanted the child's name engraved on the top of the box.  At the time we discussed the plans for this project, I was the only one who knew what the parents had chosen for their baby's name!